"Beautiful" – adjective – pleasing the senses or mind aesthetically. Of a very high standard; excellent.
The very term is subjective in nature. Anyone can interpret its meaning and categorize what and who qualifies. The unfortunate thing is that, for most women, this interpretation and the publicized standard of what it takes to make the cut is largely controlled by the media.
This creates quite a plight for women looking to emulate what may be genetically unattainable. Women of color, plus-sized women, vertically-challenged women and those with facial features not at the forefront of any brand's makeup campaign have been subject to decades of images that are consistently contrary to how they look.
"How does the offering of unrealizable imagery impact the masses?" one might ask.
Consider the fact that more than just women completely secure with themselves are exposed. Think about the 12-year-old girl with skinny legs, braids and glasses who (of course) wants to be "beautiful" (or at least called it) waiting in the grocery store line with her mother staring at the magazines next to the candy. Does anyone look like her or what she may grow to be? Probably not.
The consequential possibilities of this reality are endless: low self-esteem, a distorted self-image, envy, jealously, resentment, obsession, a feeling of inadequacy, and, worst of all – an overindulgence in the investment of her outer appearance. With so little control over the publishing world, how can we shield young women from society's standard of beauty?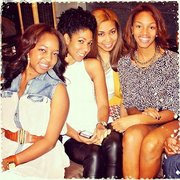 Amber Williams
Simple. Redefine it.
In actuality, what it means to be beautiful is up to you – and it definitely goes beyond mere aesthetics. We should teach little girls and ourselves that beauty is a theory, for which we have the power to construct from scratch. Looking in the mirror should be an esteem-building exercise, rather than a comparative, flaw-finding one. Isn't it beautiful that no one on earth has the same fingerprint as us? Or that the curvature in our chins or the sharpness of our cheekbones is uniquely ours? Even twins have their own distinctive features. Individuality and differentiation in itself is beauty. What we see and celebrate, not what we think others see or what we know others to value, is what's most important. The mind, spirit and soul are not to be ignored in our construction. The way someone treats others, views the world, shines a light and uplifts the next woman equally contributes to her beauty.
The beauty in redefining "beautiful" is that we can all qualify. We can all be so confident in our own excellence that not a single crack in the mirror or comment from another can make us find flaw with our photoshop-free reflection. And we're totally worth it, don't you think?
Try telling my girls and me that we aren't beautiful. We chuckle.